CASA SANTA RITA, 1920'S ADOBE ECO-COTTAGE AND GARDEN
Guest quote: "A gem of a house nestled inside a secret garden!"
Painterly Southwest. Historic, hand built, view home of artisan blacksmith and sustainable systems designer reflects these sensibilities.
The garden is an oasis amidst an arid landscape, covered with tree canopy and climbing roses, with a lush Mediterranean feel to it. Multi-level paths invite wandering just a bit farther into mysterious little nooks filled with birdsong and unexpected surprises in texture and color. A hummingbird's nest in an overhanging branch just outside the kitchen window is emblematic of the abundance of life attracted by this garden.

The house is an authentically restored vernacular, comfortable yet elegant. "Beautiful and unusual color combinations in the decor make it a work of art unto itself, but a relaxing one." Each of the 3 bedrooms has its own personality and handmade touches abound throughout the house, from Richard's blacksmithing creations that provide door handles, latches, and hooks for towels in the bathroom and pots and pans in the kitchen, to the one-of-a-kind cabinetry throughout the house.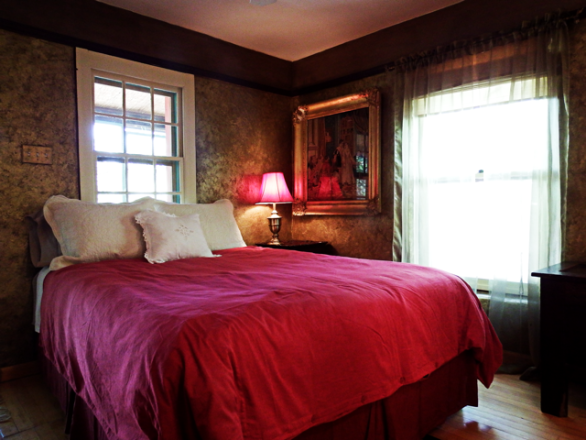 A small but extensive library is a sweet place to curl up with a good book, a comfortable screen porch overlooks the quiet street below, while the living room provides comfortable leather furniture for lounging. Town's amenities are a short walk away.
Casa Santa Rita
373 Santa Rita Avenue Patagonia AZ 85624
Phone: 520-604-7665
Email: ddfillc@gmail.com
Methods of payment: Cash, check. If credit card payment, guests should book through AIRBNB