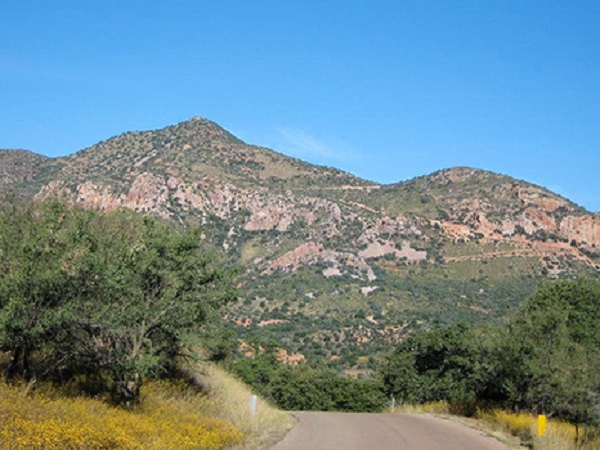 This hike is moderately difficult. The trail is the service road to the fire lookout station on the summit of Red Mountain.  In years past, this was no doubt one of many mining roads in the Patagonia Mountains, but in recent years both Verizon Wireless and Cingular mobile phone service providers have installed antennas and several small structures for their operating equipment. You will see these structures just before you get to the summit and the fire lookout station.
The hike is approximately 9 miles round trip out and back to the look-out station from the start of the trail/ forest service road just off of Harshaw Road where limited parking is available.  Vehicles can and do drive in further, but this is not recommended, especially since you're there to hike!!  The elevation gain is approximately 2,315 feet.  The best times of year to do this hike are winter, spring and fall.  The summer will work, too, if you start early and return before 9:00 a.m.
To get to the trailhead, drive out of Patagonia on Harshaw Road.  You will pass a sign that tells you  that you are entering the Coronado National Forest and then a parking lot for the Arizona Trail.  Keep driving, and a little farther on (about 3 miles from your start on Harshaw Road) there is a Y in the road.  Stay on the paved road to your right.  In less than two miles you will see a sign on your right regarding fire safety.  This is the entrance to the trailhead/forest service road.  Park here.  If you miss the trailhead and start an uphill climb on Harshaw Road, you have gone too far.
Enjoy the scenery and some 17 to 19 switchbacks (depending on whose counting!) as you follow the forest service road to the top of Red Mountain.  It is an uphill hike most of the way, but once you reach the summit, the views are spectacular. Taking a topographical map of the area will help you identify other mountain ranges visible from the top of Red Mountain.  The town of Patagonia, Patagonia Lake State Park, the San Rafael Valley, Mt. Hopkins, Mt. Wrightson, and, of course, Mexico, offer many photo opportunities.
Allow yourself anywhere from 4 to 6 hours for this hike.  Take plenty of water, never hike without sunscreen, don't be in a rush, enjoy the wilderness, and remember that whatever you pack in, you need to pack out.
Happy trails to you!!
Submitted by Jude Weierman, Patagonia resident.