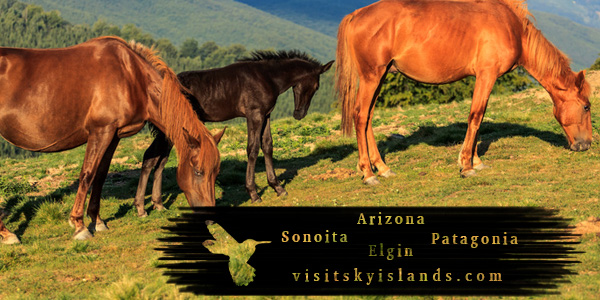 "Enjoy a variety of horse activities here in the Sky Islands of Southern Arizona"
Horses are an inspiration to many people and are associated with many common symbols such as power, grace, beauty, nobility, strength and freedom. The horse is also one of the 12 Chinese signs of the zodiac. Anyone born in the year of the horse is seen to embody the characteristics of the animal, namely intelligence, independence and a free-spirit.
According to the American Museum of Natural History, horses have lived on Earth for more than 50 million years. The first horses originated in North America and then spread to Asia and Europe. The horses in North America became extinct about 10,000 years ago and were re-introduced by colonizing Europeans, according to Scientific American.
People of all ages with physical and mental disabilities obtain beneficial results from association with horses. "Equine-assisted" or "equine-facilitated" therapy is a growing form of experiential psychotherapy that uses horses as companion animals to assist people with mental illness, including anxiety disorders, psychotic disorders, mood disorders, behavioral difficulties, and those who are going through major life changes.  A relationship between the patient and the horse develops and allows the person to engage with nature through a beautiful and peaceful animal. This aids in building trust, respect, compassion, communication and self-confidence.
In addition to helping those with physical and mental disabilities, horses also provide psychological benefits whether you actually ride or not:
Horses help you to reconnect to nature
Horses inspire you to embrace freedom
Horses help you to relax and thereby reduce stress
Horses help to build self-confidence
Riding horses is a great form of exercise
In the Sky Islands of Arizona (Elgin, Sonoita and Patagonia), there are many horse-related activities to do, such as
Dude ranches
Horseback riding
Healing Sanctuaries
Classes on horses
Horse Events (See Information below)