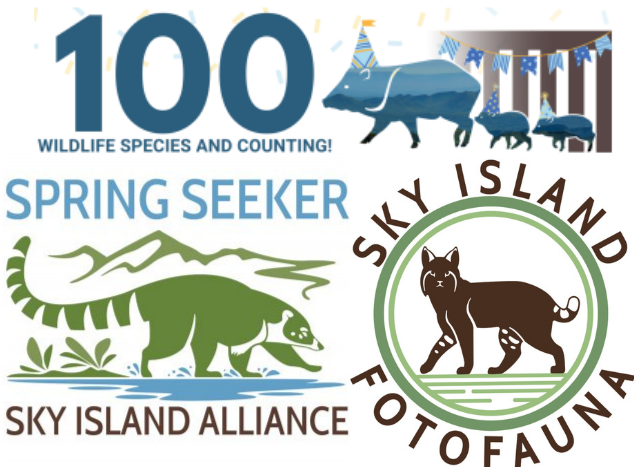 Spring Seeker – 
Be a Spring Seeker and carry our simple survey form on your smartphone when you're hiking.  If you find water, complete the survey to easily alert Sky Island Alliance about the spring's condition and guide where we work to protect springs next. All of the spring health information submitted to the Spring Seeker project gets incorporated into our Spring Prioritization Tool to help us track the state of springs across the region and identify priorities for spring stewardship projects.
We're looking to monitor springs throughout the Sky Islands, including the Patagonia, Santa Rita, and Huachuca mountain ranges, and anyone can help! It takes less than 10 minutes to document a spring, and you can send us the survey directly from your phone.
Border Wildlife Study – Border wall construction is bisecting one of the most rugged and wild stretches of wildlife habitat on the U.S.-Mexico border—threatening to stop animals in their tracks in the most biodiverse region in inland North America. Because dozens of federal laws (including the Endangered Species Act and National Environmental Protection Act) have been waived in the last year, border wall construction of 30-foot-tall steel walls are now rising in sensitive areas that support local wildlife and springs.
The Border Wildlife Study collects wildlife community data with a camera array spanning 34 miles of the border across the Patagonia and Huachuca Mountain foothills. Sky Island Alliance is always looking for volunteers who would be interested in helping us check these cameras, either by adopting a camera block or through joining Sky Island Alliance staff in the field.
Sky Island FotoFauna –  Join Sky Island Alliance's growing network of community wildlife cameras! All you have to do is 1) set up a wildlife camera on your property and 2) submit an online FotoFauna checklist of the species you observe over that month.
With this data, Sky Island Alliance and partners will be able to study when and where wildlife is present seasonally so we can better protect their habitats and pathways.