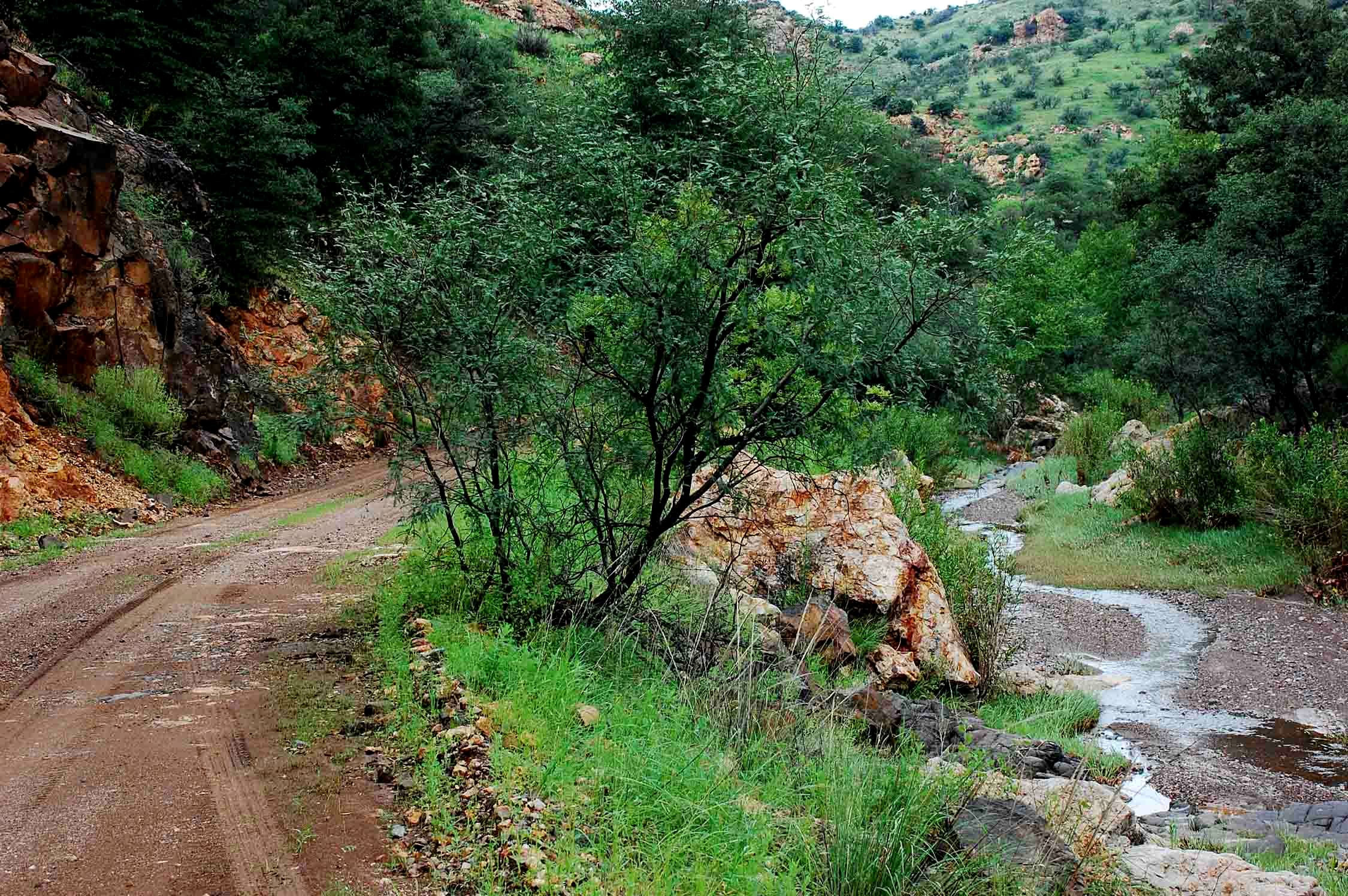 Mountain biking in the Mountain Empire varies from groomed dirt roads to technical single track.  Here are three scenic rides you might like to try.
Harshaw Loop
This is an easy 13 mile loop that includes pavement and dirt road.  This scenic ride follows along Harshaw Creek through a narrow canyon with views of local rock formations, majestic cottonwoods and Arizona sycamores.
Park in downtown Patagonia and peddle south out of town on paved Harshaw Road.  After about 3 miles, you'll see a sign that says "Rocking Chair Ranch" and a dirt road that goes off to the left.  Take the dirt road, Harshaw Creek Road, and continue for another 3 miles until you come to stop sign at a T intersection with another dirt road. Turn right.  After about a half mile, you'll find yourself  back on pavement- the other end of paved Harshaw Road.  After cresting the little hill, enjoy the scenic downhill ride and continue following  Harshaw Road back to Patagonia.
San Rafael Valley Loop
This is a longer, 26 mile version of the Harshaw Loop, most of which is on dirt Forest  Service (FS) roads.  You'll cross the stunning grasslands of the San Rafael Valley, ride through areas of oaks and manzanitas, and pass what remains of the once thriving mining community of Harshaw, its historic cemetery, as well as one of this ghost town's remaining buildings.
Follow the Harshaw Loop directions until you come to the stop sign at the T intersection.
This time, take the dirt road to your left, the Patagonia-San Rafael Road,  (FS 58) and continue pedaling.  After about two miles, you'll pass the Hale Ranch on your right, a site once used for television and movie westerns.  Continue uphill for another mile and a half, and at the crest, take a well deserved rest while you enjoy one of the most beautiful vistas in the area – the San Rafael Valley.
When you're ready, get back on your bike and take a right off of the Patagonia-San Rafael Road (FS 58) onto  Apache Road (FS 214).  You'll be pedaling on a very gradual uphill for the next 5 miles or so.  At the next major intersection where you'll find the Santo Nino Ranch, turn right onto FS 49 toward Patagonia.  After about three fourths of a mile, start looking for a sign on your left that says "Guajalote Flats."  This is where your reward, a long, easy pedaling downhill, starts.  After about three miles or so, you'll notice the colorful flowers marking the graves at the Harshaw Cemetery on your left and one of Harshaw's last remaining buildings to your right.  The dirt road next to this building is private.  Please respect it.
Continuing on downhill from the Harshaw Cemetery, you'll soon find yourself on pavement again – Harshaw Road. Follow the pavement when it turns to the left, crest the little hill, and then enjoy the downhill ride as you follow Harshaw Road back into Patagonia.
Kentucky Camp
Kentucky Camp is the remains of a late 1800's mining camp located north of Sonoita on SR 83.  The mining plan here was to blast the rock from the mountainside with water that was to be pumped uphill through a series of flumes.  As you bike this 18 mile single track and Forest Service road loop, six miles of which takes you on the Arizona Trail, you'll pass several places with interpretive signs describing James Stetson's innovative but unsuccessful mining adventure.  Be sure to check out the museum and restoration-in-progress before riding out of the Kentucky Camp site.
Drive north on SR 83 out of Sonoita to Gardner Canyon Road and turn left.  Drive .8 miles up Gardner Canyon Road to FS 163.  Go right and drive 2.2 miles up the dirt road towards Kentucky Camp until you get to a parking area for off road vehicles on the left. Park here.
Get on your bike and ride back down FS 163 to Gardner Canyon Road and take a right.  Ride up Gardner Canyon Road, passing the Arizona Trail to FS 785.  Make a left turn on FS 785 and, after passing the Arizona Trail once again, continue uphill on FS 785 to the next junction with the Arizona Trail.  Turn right on the Arizona Trail here and get ready for a diverse, fun, single track ride to Kentucky Camp. This section follows the Arizona Trail. The Arizona Trail crosses and temporarily joins several dirt roads, so watch for the  "AZ Trail" markers to guide you as you ride.  Upon arriving at Kentucky Camp, pass the main buildings and take the dirt road to the right leading uphill to a gate. Go through the gate, take a right turn onto FS 163, and ride 2.2 miles back to your car.
This is just a tiny sampling of the scenic and diverse mountain bike riding available in the Mountain Empire.