A southern Arizona oasis for boating, fishing and birding
Story credit goes to Scott Craven of the Arizona Republic
When the sign suddenly pops up along a two-lane highway carved through Arizona's wine country, you wonder if it's a mistake.
It points to a back road leading into the desert foothills, promising an unlikely destination.
Is there really a lake amid these gentle rolling hills covered in desert brush? 
The faithful who take that turn will follow a road whose route is dictated by the landscape, almost doubling back on itself as it finds the path of least resistance.
After four miles it ends at a small lake that appears tucked within the contours of a ruffled blanket.
Birding and fishing in winter
The first glimpse of water at Patagonia Lake State Park comes through the tents and RVs that crowd the campground. On a winter morning, early risers were up walking their dogs, nodding to their fellow campers taking leisurely strolls through scenery that demanded attention.
The 2½-mile lake plays hide and seek throughout its length, ducking around bends and into coves. On this day, anglers are the first ones on the water, prowling for bass, catfish, crappie and even rainbow trout, which are stocked during the winter.
Later on they will be joined by kayakers who cruise silently along the placid surface. Two-thirds of Lake Patagonia's 265 surface acres are devoted to no-wake zones, the perfect playground for those who prefer to explore languidly.
Patagonia Lake also draws those who have binoculars and know how to use them. More than 300 species of birds have been spotted and the area has a national reputation among birdwatchers.
Many head to the east where the Sonoita Creek Trail leads to a riparian area perfect for the area's full-time avian residents, as well as those stopping briefly during migration. Birders have reported seeing such common species as the broad-billed hummingbird and great horned owl, as well as the harder-to-find vermilion flycatcher and spotted towhee.
Boating and swimming in summer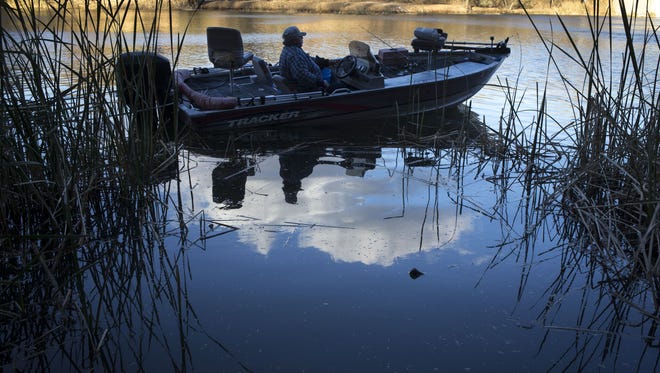 Rick Bennett of Tombstone fishes. (Mark Henle/The Republic)
As the weather warms, Patagonia Lake becomes an altogether different beast.
The park is no secret to the thousands who come each summer to splash along its beach or carve rooster tails on its western third, where wakes are to be jumped rather than shunned.
"People from all over the area come to escape the heat," park manager Colt Alford said. "Summer weekends can get pretty crazy."
A history of recreation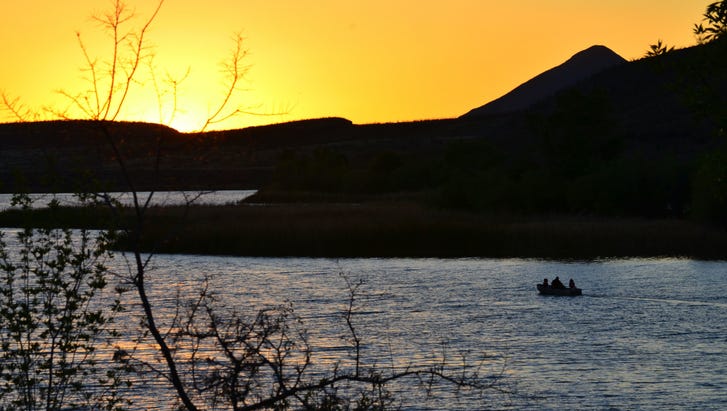 Boaters enjoy the beauty of the Patagonia Lake State Park. (The Republic)
The lake's popularity nearly killed it when local citizens first dammed Sonoita Creek 50 years ago to attract recreational enthusiasts.
Members of the Patagonia Lake Recreation Association built facilities to make the area popular with those who wanted to fish, water ski or simply have a picnic. Visitors flocked to the lake in the late 1960s and early '70s, so much so that owners couldn't safely keep up with the demand.
Eventually, the area was acquired by the state and on April 1, 1975, it was opened as Patagonia Lake State Park.
Patagonia Lake State Park facts
Best time to go: Summer, if you want to cool off. Winter is best for those who want to kayak or fish when crowds are gone and the lake is calm.
Trails: There are more than 25 miles of hiking trails. All but a half-mile of them are within the adjacent Sonoita Creek State Natural Area, which is closed during the pandemic.
Campground: There are 105 sites with electricity and room for two vehicles. Not all may be made available during the pandemic. Restroom/shower buildings are closed; portable toilets are in place. Sites with electricity are $25-$30 per night; non-electric sites are $20-$25. The 12 boat-in campsites ($20-$25 per night) have no power or bathrooms. Cabins have a queen-size bed, two sets of bunk beds, table and chairs, mini-fridge, microwave, ceiling fan, heating and air conditioning. Bring your own bedding and supplies. Cabins cost $119 per night, $129 on holidays with a three-night minimum. Reserve campsites and cabins at azstateparks.com.
icnic areas: Ramadas and picnic tables are scattered about the lake's south shore, with most clustered at the beach.
Supplies: The Lakeside Market sells food, drink and other common provisions, and also offers boat rentals, fishing licenses and bait.
Nearest services: In Patagonia, 12 miles away.
Location: 12 miles southwest of Patagonia off State Route 82. From Phoenix, take Interstate 10 east past  Tucson to Vail, then go south on State Route 83 (Exit 281). When you reach Sonoita, go west on SR 82 past the small community of Patagonia to the Patagonia Lake State Park turnoff. It's about 185 miles one way.
When: The park is open every day. It may close early in summer once capacity is reached. Day-use hours vary with the season. Visitor center is open 8 a.m.-3:30 p.m.
Admission: $15 per vehicle Mondays-Fridays. $20 per vehicle Saturdays-Sundays.